Georgetown University: Main Campus & Downtown
100 Harbin Hall Box 571117
Washington, District Of Columbia 20057
Georgetown University is excited to offer a variety of summer housing options to meet your DC internship needs! Choose between living on our scenic main campus and our brand new downtown residence building. Both offer apartment-style housing surrounded by a community of like-minded students and interns. 
AVAILABILITY UPDATE: For the 2023-24 calendar year, both locations are available for SUMMER intern residents only. Our Academic Year intern housing applications are currently closed.
nearby transportation
intern housing availability
Minimum Length of Stay: 12 weeks
Maximum Length of Stay:

3 months
housing options
Main Campus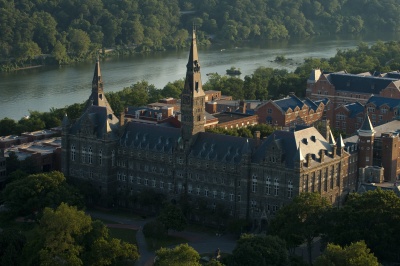 Living on The Hilltop
Georgetown's main campus summer intern housing is the perfect way to experience Georgetown's scenic campus while DC is in full bloom. This option is ideal for interns working in the surrounding Georgetown area, offering a safe and inclusive housing option for emerging professionals and passionate scholars. Enjoy access to a variety of university buildings and resources, including the Gym at Yates Field house and study spaces across campus. Even beyond the charm and connection of Georgetown, our intern housing provides a unique opportunity to explore DC in your own backyard. Our Summer Intern Housing is for students from Georgetown & other colleges and universities who are participating in an internship in the DC Metro area.



Residence Options
Summer interns have the option to live in a single bedroom in a shared apartment or a shared bedroom in a shared apartment. We assign intern residents with other interns in these apartments. If you have a particular roommate in mind, you have the option to indicate the first and last name of your desired roommate within the intern housing application when prompted.
Around Us
Georgetown is the best of both worlds – a warm and nurturing campus community in a vibrant world-class capital city. Take advantage of all campus has to offer, then venture outside our gates and find yourself in a global city.
Downtown at 55 H St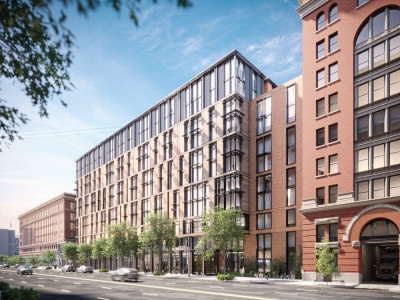 Living at 55 H St
Live, study, work and explore at the heart of the nation's capital when you take advantage of Georgetown University's intern housing at 55 H St NW. Located just a few blocks from the US Capitol, Union Station and Capital One Arena and numerous transportation options, 55 H St is a launching pad to match your educational, community and housing needs. Enjoy luxury, apartment-style living in a safe and secure residence building, connected to a community of students and interns. 
Residence Options
Interns have the opportunity to live at our 4-bedroom, 2-bath apartment-style units. Each Housing Occupancy Agreement (HOA) includes a single bedroom in a furnished shared apartment. Amenities include shared kitchens and fully furnished living room space.  The approximate square footage of units is 825-873 square feet. Officially opening its doors in Fall 2022, our brand new residence building offers students and visiting interns that opportunity to live in a luxury apartment-style building. Beyond the infrastructural beauty, this building was built to meet high standards of sustainability and is pending LEED Platinum certification.
All utilities are included in the housing cost: water, sewer, trash, high-speed wireless internet, and in-unit laundry. Additionally, there is an option to sponsor interns through a formalized agreement between Georgetown University and the organization. This option provides a seamless, stress-free experience for the interns as all negotiations and legality are managed between the two organizations. 
Amenities
Get the latest in modern apartment-style living with our upgraded amenities! Suites include full kitchens with dishwashers and washer-dryers. Shared spaces include a penthouse fitness center with expansive views of DC, a penthouse community center, and multiple study-lounges. Enjoy the convenience of having Rako coffee directly in the lobby and access to Sweetgreen lunch drop-off. Outdoor spaces are only accessible by 55 H St residents and include a private courtyard with lounge chairs and patio area with grills and a pingpong table. Limited parking is available on a first-come-first-serve basis.
 
Around Us
Located in the heart of the District, just blocks from the US Capitol, 55 H St provides unparalleled access to the best of DC's cultural and social life, work opportunities and historic monuments. With quick access to Union Station, the Metro subway, numerous bus lines and Georgetown University's Transportation Shuttle (GUTS) routes, traveling to and from your classroom, internship and social plans has never been easier.
things to do around Washington
payment methods