View Metro Boston Internship Housing Options
Discover Your Boston Intern Housing Options
Are you ready for a new adventure in a breathtaking city? Interning in Boston, MA can be exciting, and we think this New England hub is the perfect place to find your ideal Boston internship housing. With companies like General Electric, Fidelity Investments, Liberty Mutual Insurance, Steward Health Care System, Gillette, Wayfair, and MORE calling Boston its headquarter city, it is no wonder that students across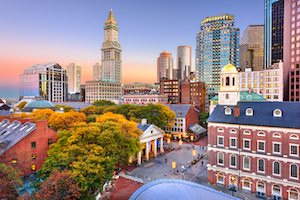 the country flock to Boston and are in need of finding affordable and reliable intern housing. For summer interns seeking close proximity to internships in the health care sector and Boston hospitals, consider Simmons University, Massachusetts College of Art & Design, or Suffolk University. Other great options for Boston intern housing include Tufts University and University of Massachusetts – Boston Residence Halls in the outskirts of downtown Boston. Intern housing in Boston is easy to find with Intern Housing Hub, no matter which of these universities you choose, you will have plentiful amenities and a great experience.
Experiencing Boston During Your Internship
Whether you have some free time after work or are looking for a fun experience to fill your weekend, Boston has a little something for everyone. Catch a Red Sox game at the infamous Fenway Park, tour historic sites, or stroll through one of the many farmers markets. Boston is filled with arts & culture! Check out one of the many concerts during the summer, visit a world-class museum like Harvard Museum of Natural History or the Boston Tea Party Ship & Museum, and take advantage of the waterfront scene. Book a whale watching excursion through the New England Aquarium or dine at one of the popular waterfront restaurants. Boston is surrounded by must-see locations along the coast of New England – plan a weekend trip to Martha's Vineyard or Nantucket. Last, but not least, visit Salem, MA and book a Hocus Pocus Tour, full of fun and nostalgia. 
Boston Internship Housing That Is Ready For You
Boston is waiting for you to live, work, and explore during your summer internship. Take advantage of your Boston internship and make the most of your experience. No matter where you book your Boston intern housing, you'll find your home away from home.
Popular Companies in Boston for Internships
A Guide to Popular Companies in Boston for Internships 
Landing an internship with a reputable company is one of the best ways to gain valuable experience and make connections that will benefit you in your future career. With its diverse economy, Boston has many excellent companies offering internships for college students. From technology startups to major financial institutions, here are some of the most popular companies in Boston for internships. 
Akamai Technologies 
Akamai Technologies is a leading provider of content delivery solutions, cloud security solutions, and enterprise applications. The company has been named as one of the "Best Places to Work" by the Boston Business Journal multiple times, and offers a variety of internships throughout the year. Akamai's summer internship program includes programs focusing on engineering, business strategy, product management, and software development. 
Fidelity Investments 
Fidelity Investments is a multinational financial services corporation based in Boston that offers a variety of products and services including mutual funds, retirement plans, ETFs, stocks & bonds, annuities and more. Fidelity's internship program provides students with the opportunity to develop their skills through hands-on learning experiences in their chosen field. Interns can expect to participate in research projects or operational activities related to their area of interest while gaining knowledge from senior executives within the company. 
Deloitte Consulting LLP
Deloitte Consulting LLP is one of the largest professional services networks in the world with offices located across North America. Deloitte's commitment to helping others reach their potential extends into its summer internship program which offers students real-world experiences working on client engagements alongside experienced consultants. Through this program interns have access to Deloitte's global resources and get an inside look at how global organizations operate while building relationships with professionals around the world.   
Wayfair 
Wayfair is an online retailer that sells furniture and home décor items across several brands. Its internships are designed for motivated and creative individuals who want to make an impact in their field. Wayfair offers projects in several departments including engineering, analytics, product design & development, customer service & logistics, marketing & business development, finance & accounting, human resources & recruiting, and more. Interns also receive competitive pay and benefits packages as well as exclusive events like happy hours and other social gatherings throughout the summer months. 
Northeastern University Cooperative Education Program 
Northeastern University's cooperative education program (Co-op) is one of the oldest in the country—it was established in 1909! Through Co-op placements both domestically and internationally at over 2,200 employers worldwide ranging from small start-ups to Fortune 500 companies like Amazon and Microsoft (among others), Northeastern seeks to provide students with valuable work experiences that will help them succeed professionally after they graduate. In addition to paid co-ops lasting up to six months long (or longer!), Northeastern offers other internship opportunities with varying lengths throughout the year both locally in Boston as well as globally across more than 140 countries around the globe. 
With so many great opportunities available for college students looking for internships in Boston it can be hard to decide which company would be best suited for you. It's important to do your research before applying so you know what kind of experience each particular company can offer you – whether it's developing your technical skill set or gaining insight into how operations are managed on an international scale. Whatever your goals may be when seeking out an internship opportunity make sure you choose wisely! Good luck!