Three properties in the Seattle Metro area have partnered to offer internship housing options. Find an affordable, comfortable, fully-furnished place to live while completing your internship in or around the Seattle-Tacoma metro area. Each site has different amenities and are best situated for the specific location of your internship.
Campus View Student Housing is located southwest of Seattle near Seattle-Tacoma International Airport at Highline College. Campus View offers a fully furnished apartment and is just a few minutes from the light rail for commuting to Seattle or one of the neighborhoods just south of downtown. This is a great community if you're completing an internship with Boeing or another site south of downtown Seattle. 
Cornish Commons is located in Downtown Seattle's South Lake Union neighborhood at Cornish College of the Arts. South Lake Union is in the center of the Amazon corporate campus. Cornish Commons is a standard residence hall offering double and double kitchenette rooms with a shared bathroom in each room. This is a great location for those that will doing their internship in the downtown area and won't need to do a lot of commuting.
nearby transportation
intern housing availability
Minimum Length of Stay: 4 Weeks
Maximum Length of Stay:

12 Weeks
First Check In: May 13, 2023
Last Check Out: August 13, 2023
housing options
Campus View Student Housing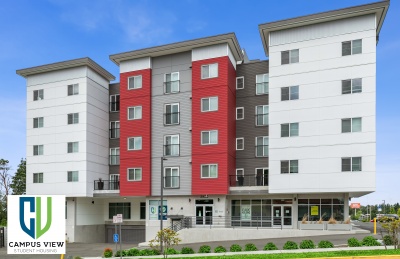 Campus View Student Housing is located on the campus of Highline College in Des Moines, WA, which is southwest of Seattle. Campus View opened in 2019 and is located just a few minutes from SeaTac International Airport. For those that will be commuting, Campus View is just a few minutes from a light rail station with access into downtown Seattle.
Campus View offers 2 bedroom and 4 bedroom apartments, each with 2 bathrooms, living room, and kitchen. Units are fully furnished with a bed, dresser and desk in the bedrooms and couch and coffee table in the living room. Additionally, Campus View has community areas throughout the building and a beautiful rooftop terrace with views of Puget Sound, great for enjoying the warm summers in Seattle.
Contact Information: Campus View Website | housing@highline.edu | 206-592-3612 |  


Cornish Commons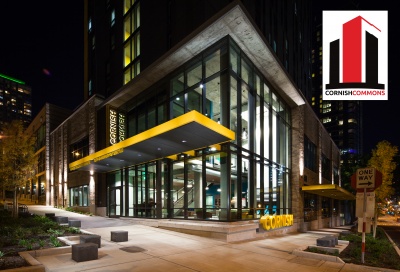 Cornish Commons is located in the South Lake Union neighborhood in downtown Seattle on the campus of Cornish College of the Arts. It is within walking distance of the Amazon corporate campus along with all the amenities of downtown Seattle, including easy access to Seattle's light rail system, parks, restaurants, and nightlife. 
Cornish Commons has residence hall style rooms available for both single and double occupancy. Room come in standard or kitchenette options. All rooms are fully furnished with a bed, desk, dresser, include a private bathroom for the room. Standard units have a microwave/refrigerator combo. Kitchenette units include a full refrigerator, microwave/convection oven combo, and cooktop. 
The weekly rate for Cornish Commons is $300-600, depending on room type.
Contact Information: Cornish Commons Website | housing@cornish.edu | 206-315-5852 | 

on-site amenities
All of our sites offer a host of amenities to make sure you have a comfortable stay during your internship. All sites include on-site laundry and WiFi. Community spaces include TV's, billiards and other games.

The site staff can give you a more detailed overview of what amenities are currently open and available due to COVID19 restrictions from the King County Health Department.
things to do around Seattle | Des Moines
Being based in the Seattle metro area for your internship, you'll have no problems finding great ways to spend the time you're not working. There is a host of great nightlife that includes restaurants, theaters and museums. Catch a Mariners baseball game at TMobile Park or a Sounders soccer match at Lumen Field.

If you are looking forward to spending time outdoors. Seattle offers many parks and hiking trails for you to enjoy nature. Explore Discovery Park in the Magnolia neighborhood or Golden Gardens Park in the Ballard neighborhood where you won't recognize you're in the middle of Seattle. Walk or ride on the Burke-Gilman Trail for amazing views of Lake Washington, or take a quiet walk through the Kubota Garden park.

Want to explore more of the Pacific Northwest? Vancouver, British Columbia is 3 hours north of Seattle and Portland, OR is 3 hours south of Seattle. You can visit both via the Amtrak Cascades route which makes stops in Vancouver, Seattle and Portland. You're just a few hours from the Olympic National Forrest, home to a temperate rain forest and some of the only undisturbed old growth forests left in the United States. Some of the best beach towns in Washington, including Westport, Ocean Shores, Port Townsend and Port Angeles are just a few hours away. Ride the ferry from Seattle to Bainbridge island or from Port Angeles to Victoria BC.
payment methods