Montclair State University is equipped and ready to offer summer intern housing for students that wish to spend their summer months closer to their internship locations. 
Many college students take on the task of a summer internship to further enhance their learning experience. It can bring real-life encounters in the field they study, while also building connections that can become useful in the future.
With the proximity to New York City, multiple NJ Transit stops on campus, and the ability to maintain a learning environment feeling, Montclair State University is the perfect place to house students for their summer internship. 
We are located just 18 miles from New York City, 12 miles from Newark, and a short drive from beautiful Downtown Montclair. An easy process for either students or organizations looking to house multiple interns without the hassle of apartment searching.
*To be eligible for summer intern housing, all applicants must be college-enrolled students that must provide proof of both enrollment and internship. All applicants must be 18 years old or order.
nearby transportation
intern housing availability
Minimum Length of Stay: 2 weeks
Maximum Length of Stay:

8 weeks
First Check In: May 29, 2023
Last Check In: July 21, 2023
Last Check Out: August 4, 2023
housing options
Hawks Crossing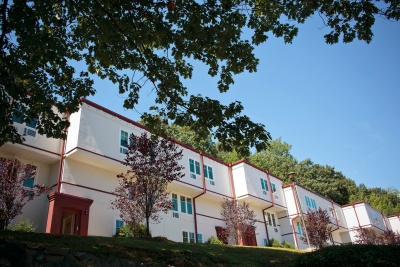 on-site amenities
Each room consists of:

Extra-long twin bed
Wardrobe closet
3-drawer dresser
Desk
Chair
Individual internet and University network access, WiFi
Wired for over 100 HD cable TV channels (TV not included)
A/C
things to do around Montclair
payment methods