Located just minutes away from Center City Philadelphia, the central business district, fashion district, and South Philadelphia Sports Complex, Temple University provides a great location and environment to cater to your housing needs. 
Conference Services offers convenient and budget-friendly overnight accommodation options for both short term and long term intern housing stays.
nearby transportation
intern housing availability
Minimum Length of Stay: 4-weeks
Maximum Length of Stay:

11-weeks
First Check In: May 20, 2023
Last Check Out: August 4, 2023
housing options
Apartment Style Accommodations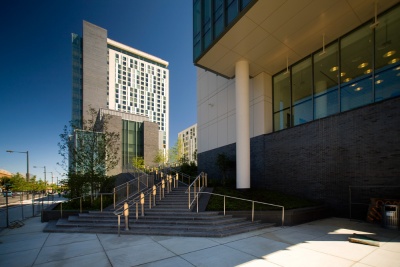 WHAT YOU CAN FIND ON SITE
·   Includes ADA accessible units
·   1,275 bed spaces in a combination of singles, four-bed and five-bed apartment-suites:
               High-rise tower (Morgan Hall North) includes 24-floors of residential space.
               Midrise structure (Morgan Hall South) consists of nine residential floors.
·   Two Towers, East and West, (Temple Towers) consists of six-floors, 658 bed spaces.
·   Suites located on the first three floors and in apartments located on the top two floors of the complex (1300 Residence Hall), 1050 bed spaces.
·   Views of the campus, center city, and the plush green terrace
·   Extensive natural light into all interior spaces of the buildings.
·  Conveniently located adjacent to Fresh Grocer Supermarket, Temple University Fitness, and the IBC Recreational Facility.
·  SEPTA Broad Street Line station in close proximity for convenient access to explore Philadelphia
·  Outdoor seating for student and visitor use
·  Ample outdoor bike storage
ROOM AMENTITIES
OVENS - Each kitchen in Morgan Hall comes with a two- burner stove, convection oven that also functions as a microwave.
TEMPERATURE/THERMOSTAT CONTROL - Heat and A/C are controlled by individual bedrooms within each apartment. The common room does not have a thermostat, but the temperature is regulated by the bedroom(s) temperature. 
LAUNDRY - Every hall has washers and dryers that can be paid for using quarters or Diamond Dollars. Quarters are inserted directly into the machines, whereas Diamond Dollars are applied using the machine located on the walls.
MAIL DELIVERY/PICK UP - The length of time it takes for you to receive a package depends on the carrier.  Some carriers, such as UPS, deliver to a central location on campus. Packages are then sorted and transported to individual halls within 2-3 business days.  Other carriers, such as Amazon, deliver directly to each hall, reducing the length of time it takes for packages to arrive in-hall and be processed by front desk staff.  Residents may pick up packages during front desk hours.
things to do around Philadelphia
payment methods