The department of Campus Housing at the University of Illinois at Chicago has available accommodations for interns working in the Chicagoland area, whether you are local to Chicago or moving here for your summer internship.
Intern Housing offers fully furnished  four person apartments with four private bedrooms and two shared bathrooms, kitchen, and living room spaces.
nearby transportation
intern housing availability
Minimum Length of Stay: 7 Nights
Maximum Length of Stay:

9 Weeks
First Check In: May 28, 2023
Last Check In: June 30, 2023
Last Check Out: July 31, 2023
housing options
Marie Robinson Hall and Thomas Beckham Hall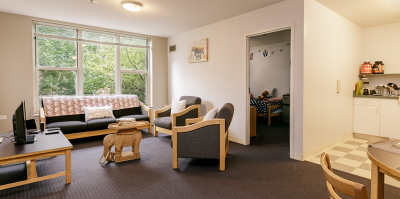 Marie Robinson Hall (MRH) and Thomas Beckham Hall (TBH) are 4-story apartment-style buildings on the south side of campus. All students have private, individual bedrooms in attractive apartments with living rooms, kitchen and bathrooms. MRH and TBH also has lounge and study rooms, a computer lab, TV lounge and laundry rooms. 
Building
Air conditioning and heat
Free laundry
Computer lab
Lounges and common areas
Gender inclusive apartments available
Room
Extra-long twin bed
Desk and chair
Clothes closet and storage drawers
Cable TV connection
High-speed internet connection (including wireless)
Kitchen – Refrigerator, microwave, stove/oven
Dining/Living Room – Dining table and chairs, couch, two living room chairs, coffee table
on-site amenities
Fully-Furnished Apartments
Bedroom (Bed, Nightstand, Dresser, Desk, & Chair)
Living Area (Sofa, Lounge Chair, Coffee Table)
Kitchen (Refrigerator, Stovetop, Oven, Microwave)
Campus Security 24/7

No Hidden Costs
Unlimited Electricity & Water
High-Speed Internet (Ethernet)
Monthly Parking Pass - $91 (subject to change)
Monthly Gym Membership - $45 (subject to change)
things to do around Chicago
Live among a diverse group of college students and other young adults with a similar mission who call University Village and UIC their home! Our housing facilities are nestled in the heart of the city's University Village neighborhood, a bustling retail strip with restaurants, coffee roasters, sandwich shops, grocers and boutiques.
payment methods