Perched above the Hudson River, Stevens Summer Guest and Conference Services offers interns the opportunity to enjoy our stunning, 55-acre residential campus in Hoboken, New Jersey. 
Stevens offers the very best of both small town and big city living. Our hometown of Hoboken is a lively, pedestrian-friendly community, offering a variety of boutiques, restaurants, parks, cafes, and nightlife. Nearby, New York City is a quick train, bus or ferry ride from Stevens' waterfront campus on the Hudson River, connecting students to Manhattan's world-famous culture, business, and entertainment. 
*To be eligible for summer intern housing, individuals must provide either proof of internship or enrollment in a local college or university course(s). All guests must be at least 18 years old.
nearby transportation
intern housing availability
Minimum Length of Stay: 6 weeks

First Check In: May 30, 2023
Last Check In: June 24, 2023
Last Check Out: August 5, 2023
housing options
Single Bedroom (Shared Suite)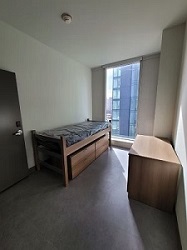 Rate: $507 per week, per person
Single Rooms are first come, first serve.
Shared Bedroom (Shared Suite)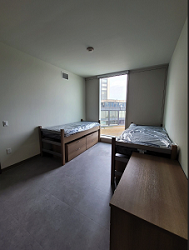 Rate per week, per person: $443
Should no single rooms be available, you can indicate whether you would be willing to live in a shared bedroom.
Premium Single Suite (Waitlist)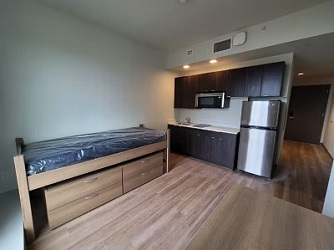 Rate: TBD
Please indicate on the interest form if you would like to live in a Premium Single Suite. You will be contacted with pricing if any of these suites are available. Placement in Premium Singles is first come, first serve.
on-site amenities
All rooms have expansive glass windows to allow for plenty of natural light and for outstanding views of either the New York City skyline or Stevens campus and the City of Hoboken.​

Amenities include a state-of-the-art fitness center, 24-hour front desk, free Wifi, laundry room, common spaces, and study rooms.
things to do around Hoboken
Hoboken, also known as the "Mile Square City" offers the unique blend of small town vibe with big city energy - earning it the alternate, informal nickname of "New York's 6th Borough." You'll find restaurants, bars, and unique shops up and down Washington Street; a quick walk over to the Waterfront provides you with one of, if not the most stunning panoramic view of Manhattan.

Hoboken Terminal is a quick walk downtown from Stevens - from there, a quick ferry or subway ride can put you in Midtown Manhattan or the Financial District. You can be in the middle of it all in Times Square, a theater on Broadway, or on Wall Street in 20 minutes or less!

There's plenty on our side of the Hudson as well. A hop on the light rail can take you to Liberty State Park or into the heart of nearby Jersey City. Feeling more adventurous? Trains provide service to several Northern New Jersey communities and Upstate New York, and connecting service can take you down the Jersey Shore!
payment methods