The University of Massachusetts Lowell (UMass Lowell) is a collegiate property with available on-site residence space for relocating summer interns, co-ops, study tour participants, and researchers in Lowell, MA - located 30 miles north of Boston. With housing in our state-of-the-art Riverview Suites, guests can choose a private bedroom in a shared suite or a complete private suite for their summer stay. 
Guests staying at UMass Lowell have easy access to local internships, as well as easy access to downtown Boston via our Lowell Line, a regularly schedule train that takes 45 mins, or via car - a 35 minute drive! 
announcements
Important: Summer guests can stay here as early as May 24, with a last check-out date of August 6, 2023. Applicants must be fully vaccinated against COVID-19 and must be 18+ years of age at time of application. 
Payment: If your application is approved, UMass Lowell will reach out to you with a payment link to make payment via debit or credit card. Your room is confirmed once you have paid in full. For those who apply after April 15, 2023, your payment must be received within 5 business days of the acceptance of your application.
reviews
"It's apartment living right on campus! The full kitchens in each apartment are so convenient. There's so much space to meet with my friends here!" - Joel (Music Performance Major)
nearby transportation
intern housing availability
Minimum Length of Stay: 14 Nights
Maximum Length of Stay:

74 Nights
First Check In: May 24, 2023
Last Check In: July 24, 2023
Last Check Out: August 6, 2023
housing options
Riverview Suites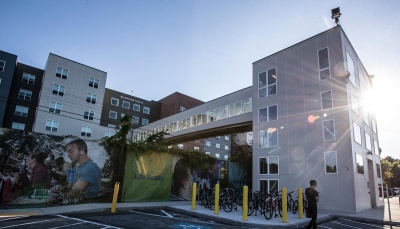 The Riverview Suites are one of the newest residence halls on campus. The apartment-style suites include private bedrooms and a common area, kitchen, and bathroom within each unit. Additionally, the residence hall includes access to several lounge spaces and other, more quiet study areas. Staying on property also includes access to nearby, dedicated parking. 
on-site amenities
UMass Lowell offers several amenities, including on-site parking, free laundry, fully furnished suites, and much more!
things to do around Lowell
Unfamiliar with Lowell, Massachusetts? No worries! Lowell is the fifth most populated city in Massachusetts as of the 2020 census. Lowell is a beautiful city, especially in the summer, when you can expect temperatures between the high 70s and mid-80s. Additionally, Lowell offers several fun activities in our summer months, including the African Festival in June and the Lowell Folk Festival in July. 
payment methods