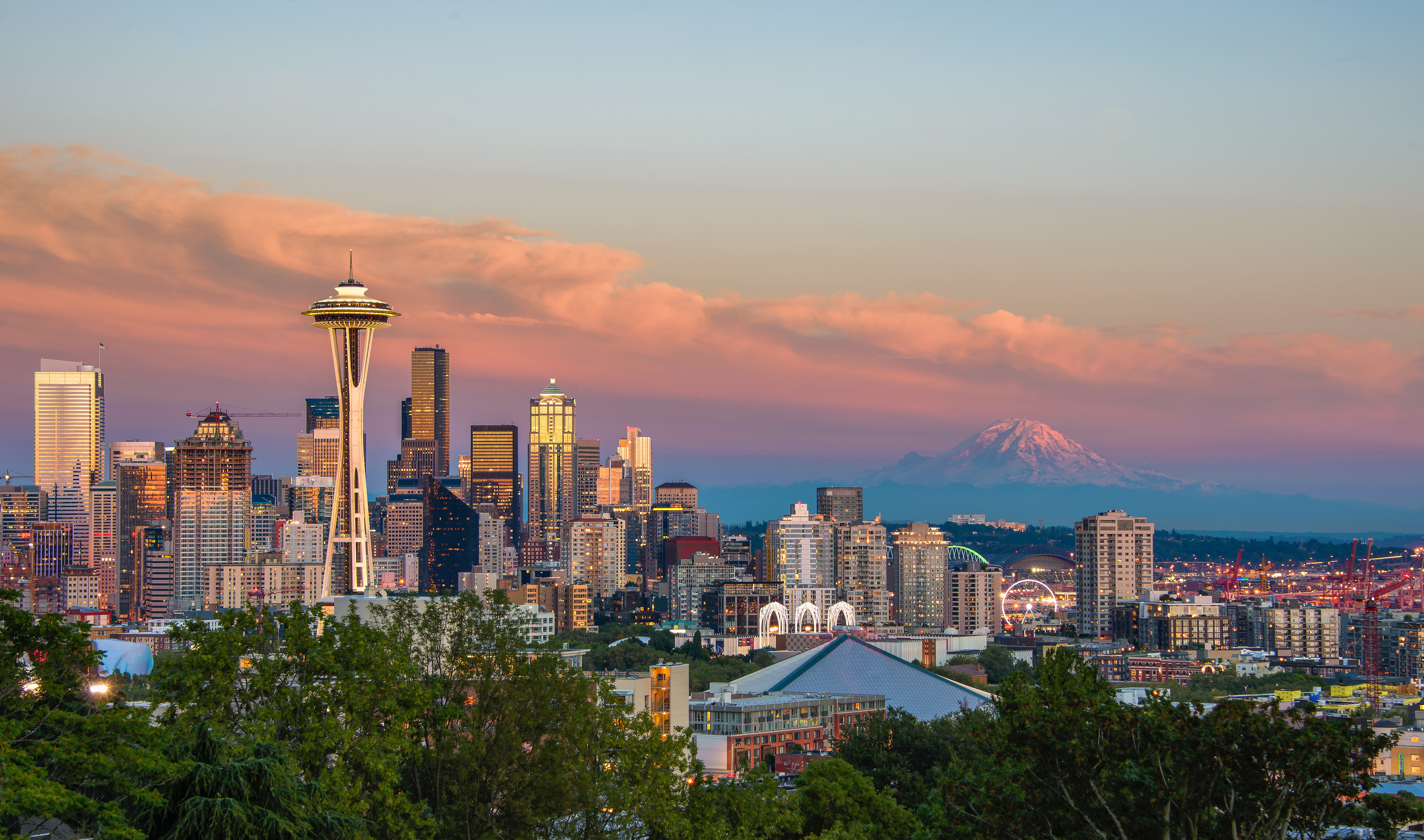 So, you received an offer for an internship with a dream company and now you need to find the perfect place to live over the summer. Intern Housing Hub has many properties and locations to offer interns seeking housing - check out these five popular locations in the U.S.:
SEATTLE, WASHINGTON
Seattle, WA tends to be known for its rainy days, but summer interns will remember it as a bright and welcoming destination full of new experiences. Known as "The Coffee Capital of the World," Seattle boasts many exciting attractions other than coffee shops on every block. During downtime, interns can enjoy visiting Pike Place Market, the Space Needle, and the Museum of Pop Culture. The city is home to six Fortune 500 companies – Amazon, Starbucks, Nordstrom, Weyerhaeuser, Expeditors International, and Alaska Airlines. Some other well-known company headquarters also reside right outside of the Seattle area – Costco, Microsoft, Paccar, and Expedia Group. Summer interns are itching to land an internship with one of these companies, and when they do, they'll need housing for a few months. Check out our Metro Seattle Housing Options to find your home away from home. 
MINNEAPOLIS-ST.PAUL, MINNESOTA
Minneapolis and St. Paul are popular summer destinations for interns - rich in history and culture, the region boasts many local attractions for interns to enjoy during the summer months. Some popular destinations within the Twin Cities include the Como Park Zoo & Conservatory, Minnehaha Falls Park, and the Guthrie Theater. When applying for summer opportunities, interns have a plethora of options between the two cities. Did you know 15 Fortune 500 companies are headquartered in the region? Target, UnitedHealth Group, and Best Buy are some of the most well-known. These companies offer once-in-a-lifetime opportunities for interns, so don't miss out! After receiving an internship offer, visit our page – Metro Minneapolis – St. Paul Housing Options – to find the best summer accommodations.
ATLANTA, GEORGIA
Residents of The Peach State are excited to welcome the next round of summer interns. Experience true southern hospitality during summer in Atlanta, GA. The state's capital offers visitors a diverse culture and a city overflowing with history. Of course, the summer can't be all work and no play! When becoming a temporary Atlanta resident for the summer, visit one of these local attractions – the Chick-Fil-A College Football Hall of Fame, Atlanta Botanical Garden, or the National Center for Civil and Human Rights. Some well-known company headquarters in Atlanta include Home Depot, United Parcel Service (UPS), Delta Airlines, and the Coca-Cola Company. This bustling metropolitan area also offers interns fantastic accommodations for short and long-term summer stays – visit Metro Atlanta Housing Options for more information. 
GREENVILLE, SOUTH CAROLINA
In Greenville, SC, interns will find the perfect combination of a bustling downtown and abundant natural attractions. Neither of these attributes overpower the other, so the city offers residents and guests an experience like no other. Summer months mean warm weather, so what better place to spend summer than in sunny South Carolina? Interns will have endless opportunities to explore after leaving the office or field for the day. Explore Falls Park on the Reedy River, bike the Swamp Rabbit Trail, or discover all of the hidden gems of Greenville's Main Street. If South Carolina has piqued your interest as an internship destination, these large companies call Greenville home – Prisma Health Services, Michelin North America, GE Power, and Duke Energy Corp. Don't forget to utilize our Metro Greenville Housing Options to find summer accommodations during your Greenville internship.  
BOSTON, MASSACHUSETTS
Did you know that the largest industry in Boston is the education services industry? This includes colleges, universities, professional schools, and secondary schools. This popular Boston industry currently makes up around 50,000 jobs, so if you are an aspiring teacher or want to work in the education sector, this is the go-to city! Even if interns are not interested in the education services industry, Boston is still a great city to call home during a summer internship. General Electric, American Tower, and State Street Corp. are all Fortune 500 companies that are headquartered in Boston. While spending your summer in The City on the Hill, make sure to visit some of the most notable local attractions – catch a game at Fenway Park, drink a beer at the Samuel Adams Brewery, or tour the Museum of Science. Metro Boston Housing Options is the best resource to find accommodations for summer interns.